The Hague's Next Michelin Star?
Success for The Knott, Straight Out of the Box
The 'oldies' among us will remember a 'straight out of the box' maiden victory, long ago when German industrialist Walter Wolf built a Formula 1 car from scratch, put ace driver Jody Scheckter in it, and won the team's first ever race.
Dynamic Chef, Sebastiaan Knottnerus, did the same thing when he opened his own restaurant a few months ago. He received, on his 'maiden review', a 9- in the newspaper. Not bad for a debutant restaurant owner.
Sebastiaan runs the restaurant together with his new bride, Barbara. It is located on the Laan van Nieuw Oost Indië in The Hague; nicely outside the busy city centre and away from the crowded harbour. As a play on words involving his surname, the restaurant is called The Knott, and has a cosy interior as well as a quiet terrace behind the restaurant. On warm summer evenings, one can eat outside without cars racing past your table.
---
'Even though it is quite a young team, they represent a vast amount of knowledge'
Stylish white linen, elegant wine glasses, soft music and colourful flowers welcome you to The Knott. Maître-Sommelier Thomas Jiménez takes care of the liquids, while Barbara discusses the edibles with you. Even though it is quite a young team, they represent a vast amount of knowledge. After graduating from the tough Dutch 'Hotel School', Chef Sebastiaan joined the kitchens of excellent restaurants – ranging from sympathetic city bistros to a Michelin-star restaurant – to polish up on his skills. His right hand in the kitchen is the talented German Sous Chef, Helge Hecht, who is also a patisserie crack.
After working in these excellent restaurants, it is now in his own restaurant where he serves fine, creative food based on the very best ingredients. The current menu offers lovely dishes such as a Tartar of Seabass and Oyster, Pea and Mint Mousseline, Granité of Mojito and Cucumber foam. Or the delicious Confit Weever with White Asparagus, Marine Vegetables and Lardo Asparagus Velouté. There is a beautiful Carpaccio of raw Langoustines, nearly sweet in taste with Cantaloupe Melon, Langoustine Foam, Oyster and Crème. Or Scallops cooked to the second with slow-cooked Oxtail, Bouillabaisse, Morel & Truffle.
---
'They serve fine, creative food based on the very best ingredients'
Spectacular is the hot Belgian waffle with Foie Gras, Lobster, Caviar and smoked honey, or the exciting combination of Eel, Pearl Barley cooked in bisque, Espresso (!) and Rye bread. One of the Chef's specialties is an intense-tasting home-made butter 'Beurre de Mer', which he uses to create a crust on veal with Mousseline of Mackerel, Radish and Sweet Pepper Sauce.
For dessert there is – of course – the lovely 'Chef's Selection' cheese, and for the sweet tooth; Rhubarb, Strawberry, Crumble of Roasted White Chocolate, or a Seasonal Cheesecake.
The wine department is in the competent hands of Thomas Jiménez. The wine list consists of about 100 well-chosen wines, many of which are organic. There are about 15 wines that are served by the glass. And pay attention to the pricing of the big names, which differs considerably from many other restaurants; The Knott serves great wines at prices far below 'market price'.
In view of the quality, this new restaurant might be the first in line for a future Michelin star.
---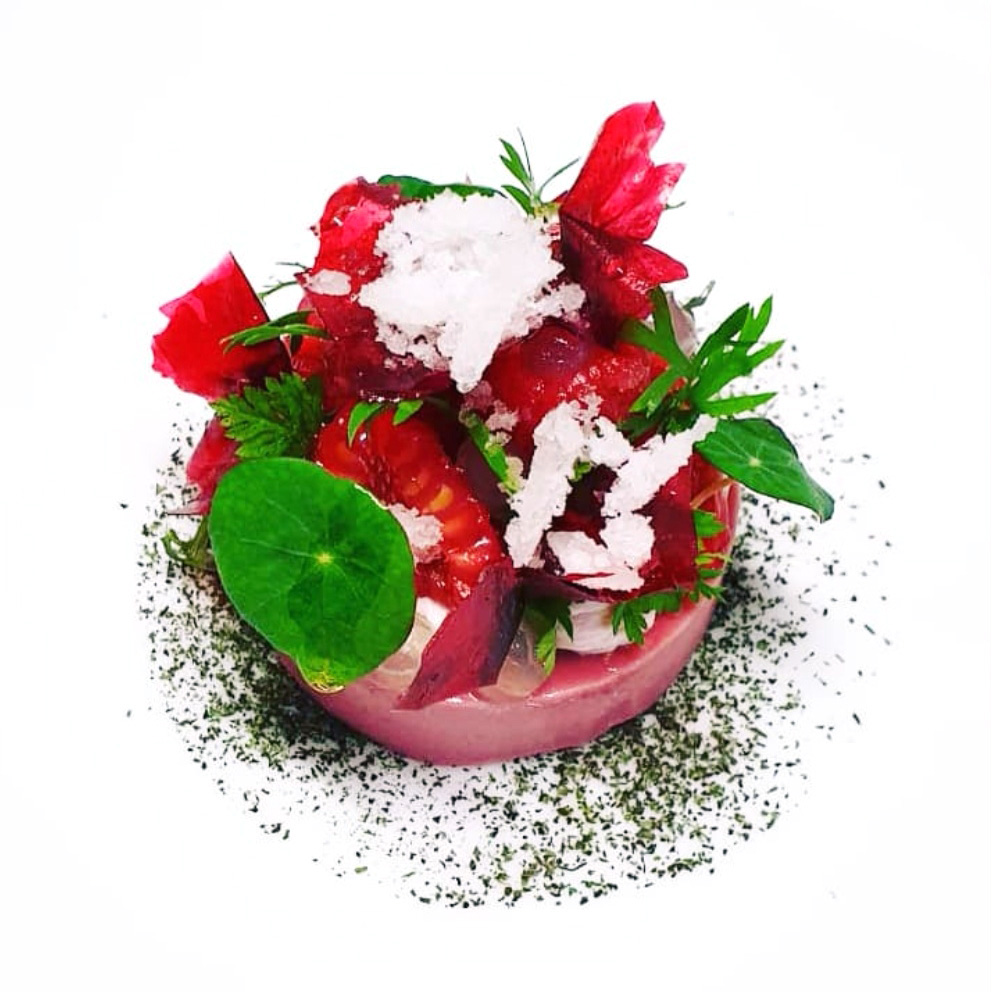 The Knott
Laan van Nieuw Oost Indië 1F
The Hague
T 070 383 88 56
4-course dinner € 48.50
5-course dinner € 58
6-course dinner € 67
7-course dinner € 76
8-course dinner € 85