ART
---
Museum Voorlinden:

Wonderment and Philosophical Questions
By Stephanie Dijkstra - Photo: Pietro Savorelli
Most museums announce their existence clearly; either they are in the middle of a city and hard to miss, or they are in the middle of a park and command clear attention. Museum Voorlinden is neither: located on the edge of an upper-class residential area, it lies at the foot of the dunes between The Hague and Wassenaar, seemingly blending into its environment.
The signs leading to the museum are modest and unobtrusive, as befits the atmosphere of the area surrounding it. As you drive up to the museum, you drive up a tree-lined driveway and park off to the left of a grand mansion. This mansion houses the restaurant – the museum itself is in the modern-looking building beyond it.
As you approach the actual museum, you instantly understand its lay-out: huge windows allow the daylight to bring out the best in the works of art, which seem to beckon you from beyond the glass façades – and once you are inside, you are struck by how some works of art seem to merge with the surrounding nature, thanks to the absence of any obstacles between them and the backdrop of trees and fields.
"An image that captures the imagination – a frazzled mother and wife, standing on the windblown rooftop, surrendering herself to the process of creativity"
Museum Voorlinden, which opened in 2016, was created by Joop van Caldenborgh, a businessman and art collector who wanted to share his collection with the world. It houses both temporary collections, as well as (semi-permanent) pieces – such as the enticing swimming pool that you can walk underneath and the heart-warming scene of a larger-than-life older couple lying beneath a beach umbrella that you can't but circle several times as you take in every tiny, human detail.
On display until May 5, 2020, is To Unravel a Torment, by Louise Bourgeois (1911-2010). It brings us work from throughout her life, including pieces from her last year, at age 98. As you admire the pieces, it is well worth your while to read the accompanying explanations in the booklet provided by the museum – for they are full of thought, detail and symbolism. These descriptions also provide you with interesting insights into the person behind the works; for instance, Louise Bourgeois made many of her sculptures on the roof of the New York apartment building they lived in, to get away from the 'daily grind of life as a wife and mother'. This is an image that captures the imagination – you can just picture the feeling of release that descends upon the frazzled mother and wife as she stands on the windblown rooftop and surrenders herself to the process of creativity.
Interspersed with quotes by Louise Bourgeois, and with a short biography on the last page, you leave the exhibition with a feeling of not only having gotten to know her art, but of having gotten to know the person who created them as well; a vulnerable, yet strong woman who did not shy away from controversial ideas or sharing intimate details about her life.
"Kiefer's works pull you into what is almost an experience, a virtual reality"
Anselm Kiefer's five pieces, in display until April 15, 2020, lend themselves exceptionally well for interacting with the close presence of nature through the museum's huge windows. Perhaps because it was actually fall at the time of visiting the museum, the piece In Fall, the Earth Turns a Little Faster, with its carefully arranged falling leaves, is beautifully complemented by the earthy and golden tones of the autumn scenery outside. Anselm Kiefer's pieces have been created taking into account natural forces, not only in their theme, but in their actual development; the use of, for instance, hay and lead allows the pieces to change over time, due to natural processes. However, it is particularly the atmosphere that they exude that attracts you to his works, for they not only offer an overall visualization, but are filled with details that, once you allow yourself to be captivated by them, pull you into what is almost an experience, a virtual reality.
An additional theme on display in the museum is Less Is More, focused on 'returning to the essence of things' in an age in which we have a high standard of living, yet find ourselves always wanting more and quickly losing interest in what we see, acquire and experience.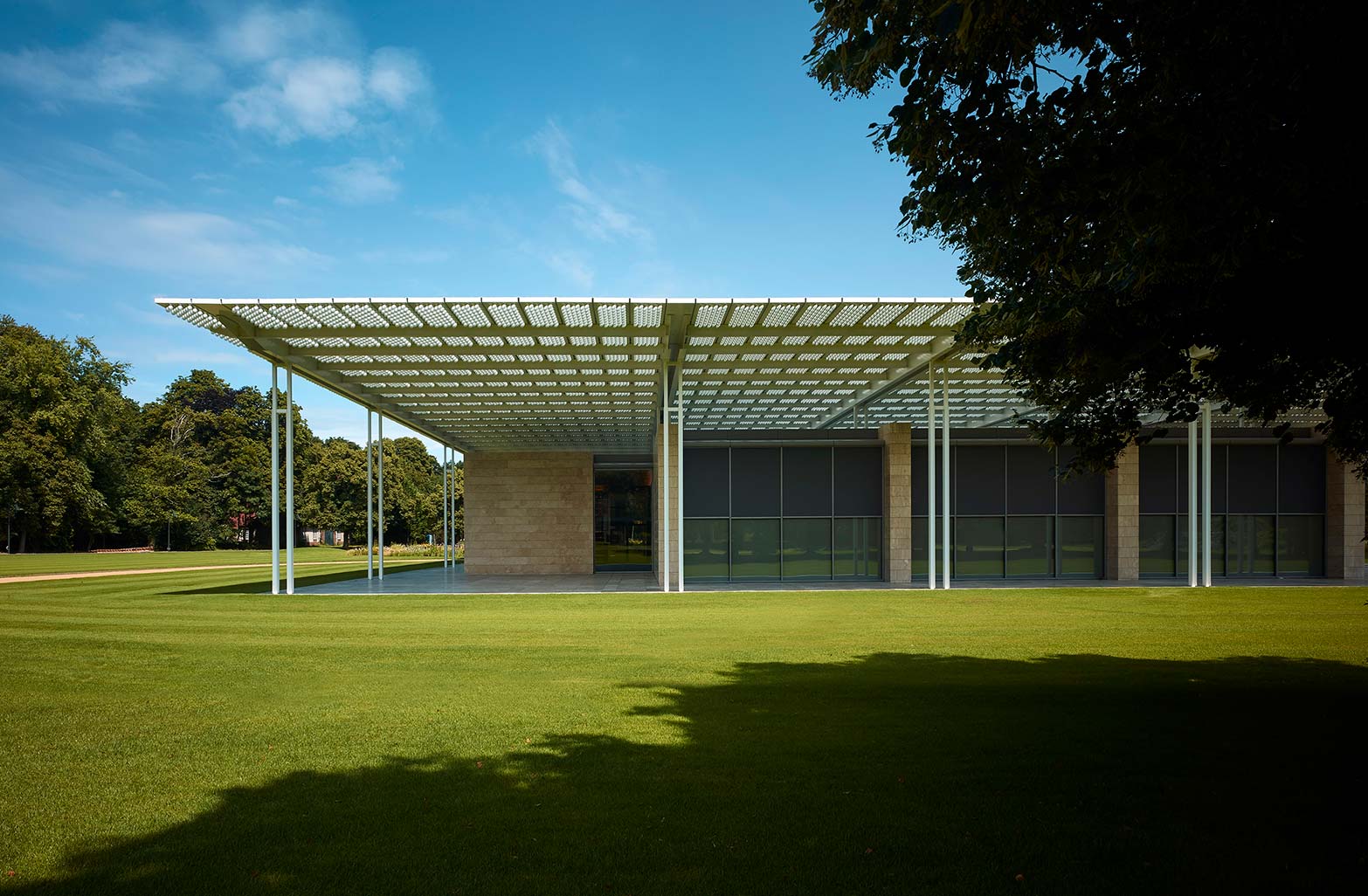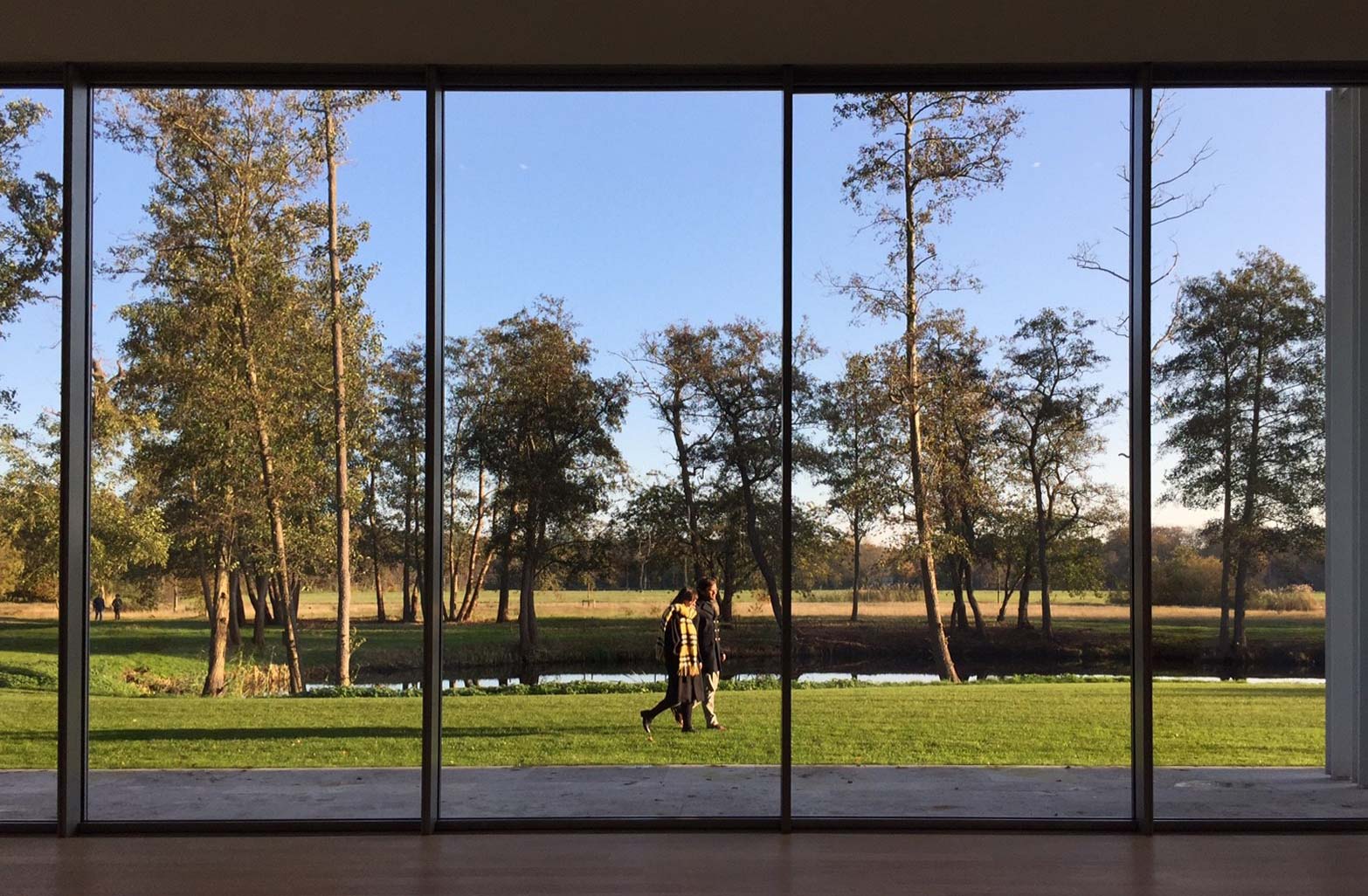 An illustration of this that drives the point home is Ai Weiwei's piece Bowl of Pearls. At first sight, it looks like two huge bowls of rice, but on closer inspection, you see that they are filled with pearls instead. This begs the question, as the booklet tells us; Is a pearl less valuable when it is one of a large number? Or conversely; Perhaps a bowl of rice can be worth as much as a pearl? These are questions that invite you to stop and think: does a person who has a jewelry box full of pearls appreciate each individual one at its full value? And: how much is a bowl of rice worth to a starving person?
A visit to this museum will leave you full of wonderment and philosophical questions that will pop up over days to come; in your thoughts, your dreams and in conversations with friends. So be sure to visit museum Voorlinden and surrender to the environment, the artists and their expressions – both in words and objects.